NDF Fifth Annual Symposium About GNE Myopathy, Recent Events Around the Globe, and Dig Deeper, Learn, and Empower Yourself
Let us seek to invoke the wonders of science...
explore the stars, conquer the deserts,
eradicate disease, tap the ocean depths,
and encourage the arts and commerce
NDF Fifth Annual Symposium
August 30 and 31, 2018 at UCLA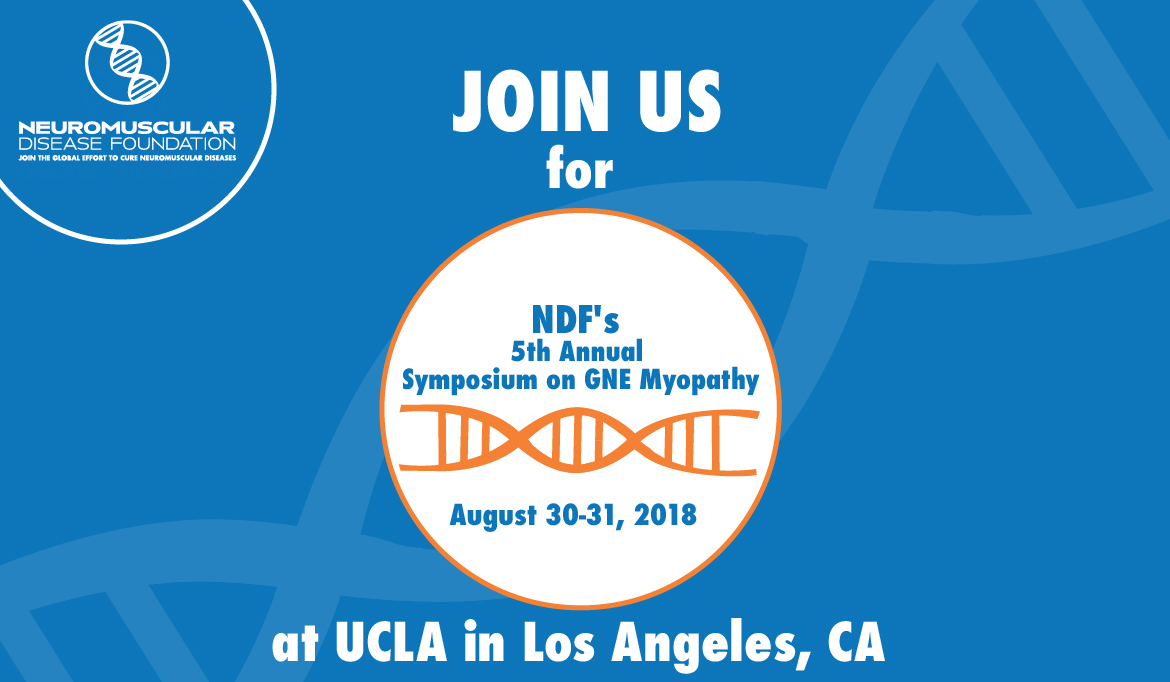 On 30 and 31 August the Neuromuscular Disease Foundation (NDF)
will host its Fifth Annual Symposium
. This Symposium has a line-up of well known researchers, scientists, physical therapists, patients, advocates, and caregivers besides family members attending. It will be a two-day, fact-and-fun-filled event that will include up-to-the-minute information, panel discussions, and individualized breakout sessions. The NDF is offering travel scholarships, lodging, and meals to patients and their accompanying caregivers. If you have not yet registered,
here is the link to do so
.
Ever since August 2017, when
Ultragenyx
terminated the Sialic Acid (Ace-ER) trials due to their failure to determine the efficacy of Ace-ER; the NDF has been
resolute
in exploring all other avenues for an effective treatment of GNEM. For this reason, the NDF has been consulting and engaging researchers to examine the GNE gene in greater detail because there seems to be a consensus among researchers that we still do not know all the attributes of the GNE gene; hence the
Perkin Elmer Genetics Study on Whole Genome Sequencing
was initiated. Further, the NDF has appointed Dr. Lek as its Scientific Director earlier this year. Dr. Lek plans to study samples of blood and skin needle biopsies of patients to bring us further understanding of GNEM.
For patients and families interested in submitting their samples at the upcoming Symposium, please contact the NDF.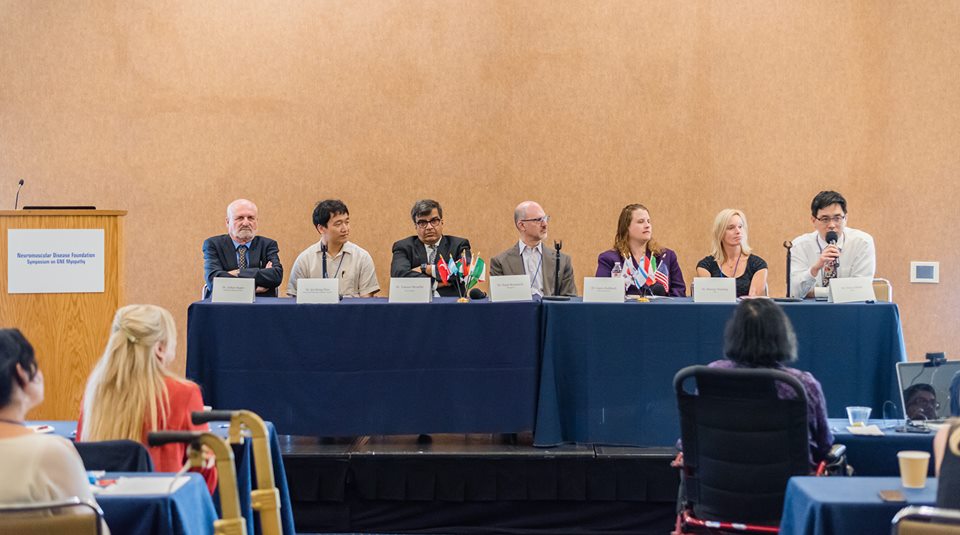 NDF Goes Global
Although this year may seem like not much is happening within our GNEM community, a substantial amount of work has been going on towards getting an effective cure for GNE Myopathy. Since last August the NDF has certified a group of Patient Advocates who have since returned to their respective countries and organized Patient Days. With these Patient Days we are discovering more and more mis- or undiagnosed patients. Recently, Patient Days were held in South Korea, Italy, Israel, Turkey, and the United Kingdom. For more on these events
check out this link
.
IMAGES OF PATIENTS' DAYS
Patient Day South Korea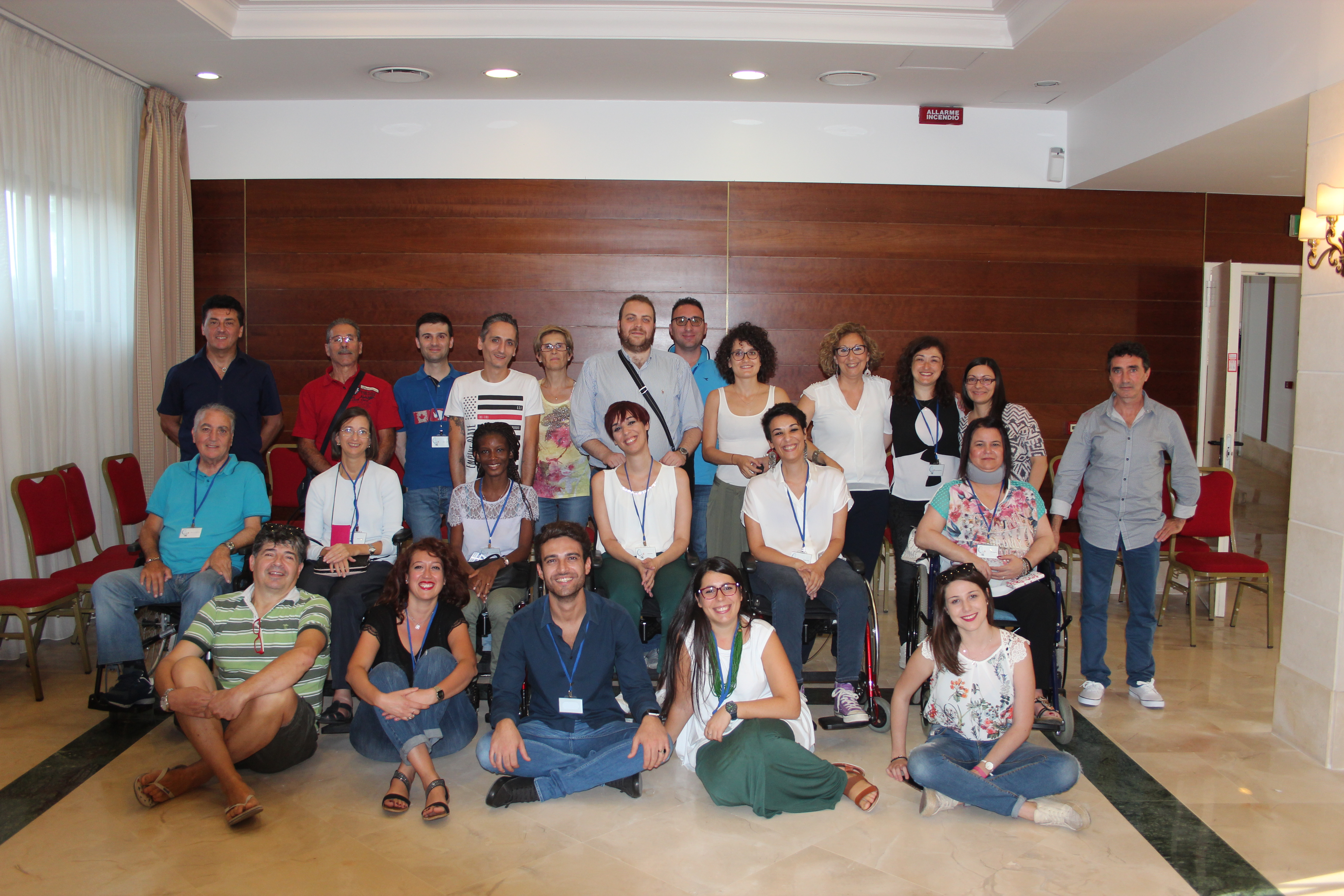 Patient Day, Italy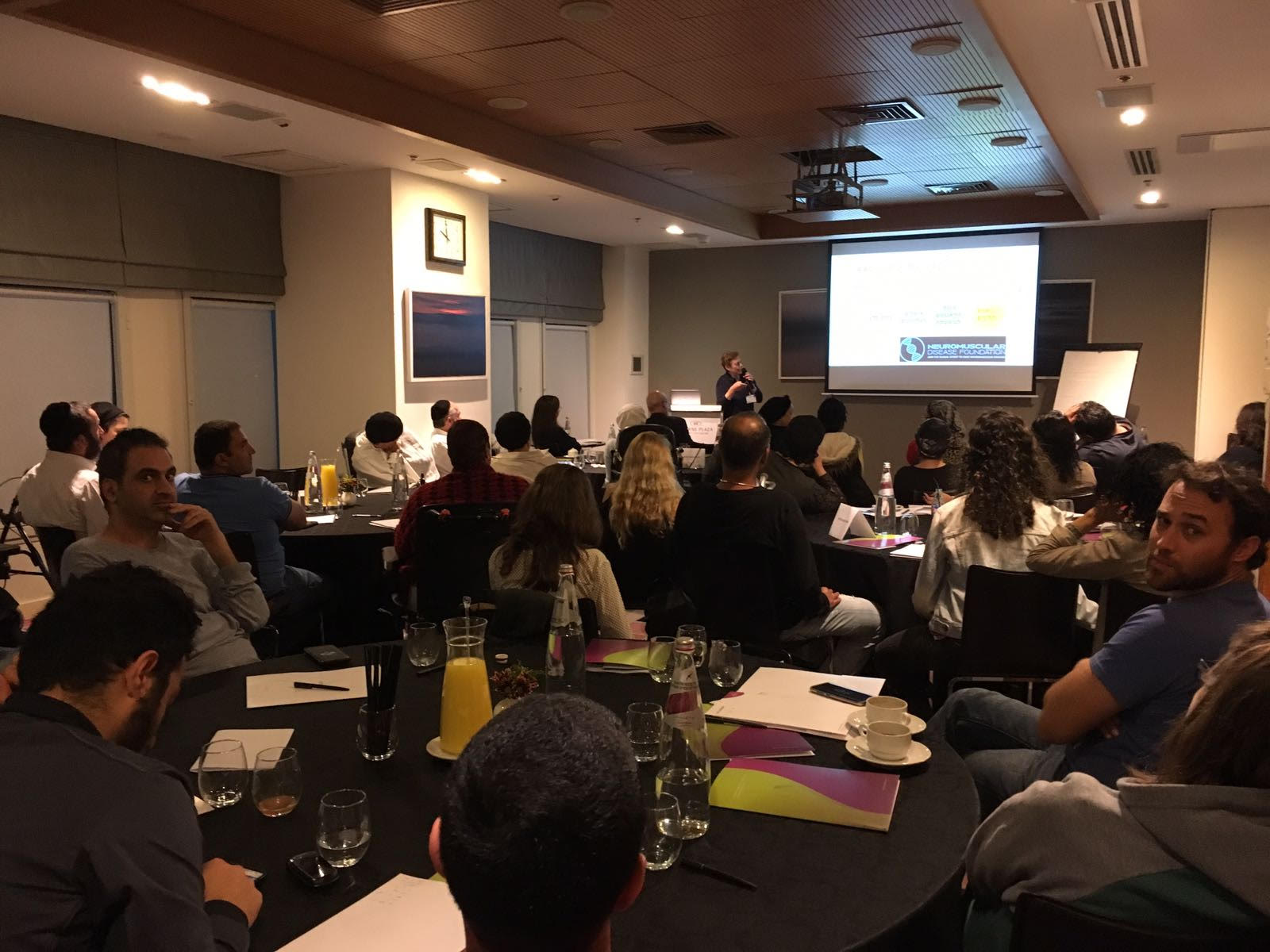 Patient Day Israel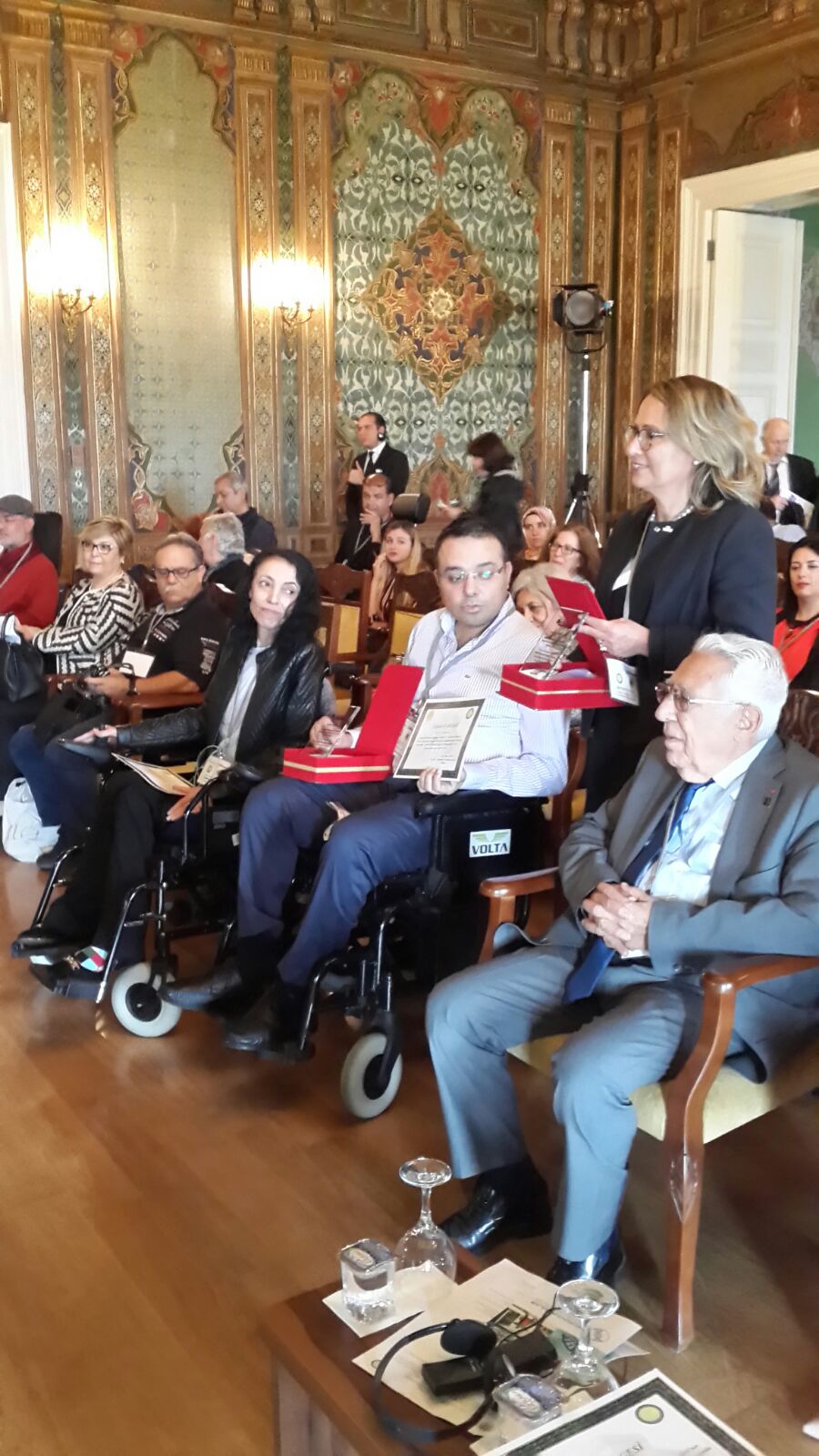 Patient Day, Turkey

Patient Day, United Kingdom
In addition,
World Without GNE Myopathy
(WWGM) organised a conference in February in New Delhi.WWGM is also working diligently to increase the awareness of GNEM. For a write-up on this event,
refer to this link
.
GNE Myopathy Conference in India
Dig Deeper, Learn, and Empower Yourself About GNEM
1. There are more than
190 mutations
known to researchers.
2. There has been a scientific calculation that shows that the
prevalence of GNEM in the world population is 6 cases per million
,therefore our disease has been definitely either mis- or under-diagnosed.
3. Sialic Acid is a substrate
(Ace-ER) that was withdrawn in August 2017
due to its failure to prove efficacy in its Phase 3 trial. Ultragenyx, mentioned last year, it is now working on a
Pro-drug
.
4.
IVIG therapy was tried
, but with very little sustained-strength improvement resulted from this therapy.
5.
Gene therapy using Lipoplex
was tried as a compassionate use on
one
patient. So far,
not much has been reported
on this trial, although the "
proof of principle
" has been demonstrated.
6.
The NIH will start Phase 2B
later this year using ManNAc, another substrate.
7. The NDF, in collaboration with Perkin Elmer Genetics, launched a
Whole Genome Sequencing
, a project to further the understanding of the molecular pathway of the GNE gene. This study started in early 2018.
8. The
NDF appointed Dr. Monkol Lek
as its Scientific Director earlier in 2018. Dr. Lek plans to further the understanding of the GNE gene by using samples of blood and skin biopsies of volunteer patients and their first-degree family. There is nevertheless much more to know about the GNE gene. Dr. Lek's hope is that the results of this project may lead to future effective therapies.
My Commentary - The Enigma of GNEM
It is my current understanding that for gene therapy to be effective, that it may be transferred only once. Therefore, if there is only one chance of an effective treatment, we will need to be absolutely sure that this form of therapy will be
the one and only sure cure.
We must know beyond any reasonable doubt that whatever form gene therapy comes in, it should be effective and will
not
cause serious debilitating medical problems. If I could be presumptuous enough to speak for others, I would like to see a therapy whether or not it would be gene therapy, gene editing, small-molecule RNA, or something else to reverse, restore the depleted muscles and stop all progression of the disease.
Presently, it seems like there are still issues that need to be explored in order to understand more in-depth about the GNE gene. We need to examine to what extent other genes are interacting with the GNE gene. If other genes are interacting with the GNE gene, do they play a role in the onset, symptoms and potential recovery of GNEM. Some lingering questions for me are
why my siblings who have exactly the same mutations
that I do, show varying degrees of symptoms, severity, progression, including age of onset.
Some in my family have been hoping for a cure since the mid-1970's, and I likewise have been waiting and hoping for a miracle. Nevertheless, hope seems to sometimes elude me. In the meantime, I will continue to pour out my efforts into finding more patients, assisting more patients, and more families to get appropriate resources, definitive diagnosis, and mentor others to advocate for GNEM.